W-TEL-ODC-Series Outdoor telecom air-con system
For Telecom cabinets and battery compartment cooling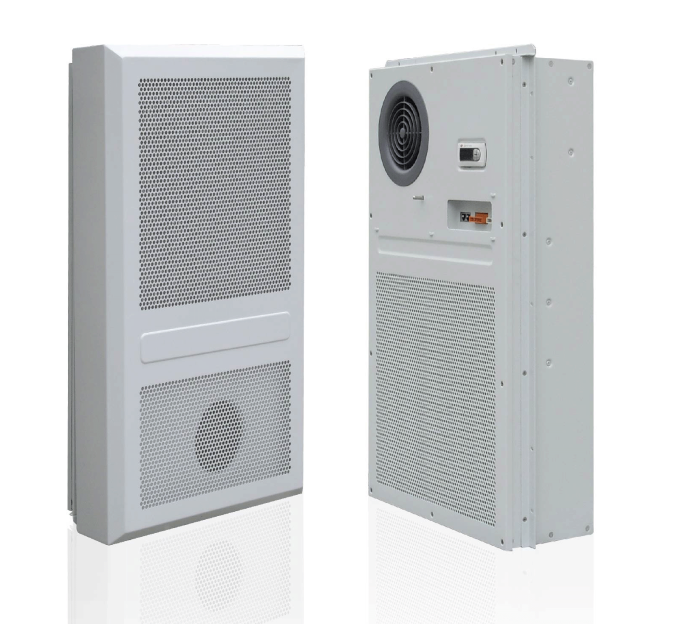 W-TEL Air Conditioners are designed for strict climate control in cabinets with temperature-sensitive electronic or telecommunications equipment. The closed loop cooling systems maintain a clean internal environment ensuring optimum performance and maximum service life of the enclosed electronics.
Easy-to-install air conditioners
W-TEL Air Conditioners are mono-block, plug and play units, which can be installed in- or outside the Telecom cabinet. Compared with a split air conditioner, the W-TEL Air Conditioner is easy to install, as no cooling engineer is required for installation.
High reliability
W-TEL products have been put into operation online in large quantities, and have undergone and passed strict field test, also win many domestic bids for outdoor cabinet solutions and is often appointed as the exclusive cooperative partner of relevant telecommunication stations.
Intelligent control
W-TEL Air conditioners with high reliability and flexible expandability, and data can be uploaded via protocols and dry contacts for remote supervision.Offering dry contacts and intelligent communication interfaces such as RS232, RS485, etc.W-TEL Air conditioners with IP55 degree could work outside for your projects .
High energy-saving efficiency
W-TEL Air conditioners with high energy-saving efficiency, and the integral energy efficiency is greatly improved by employing energy-saving compressors and advanced control logic.
Silent demand
The 53dB(A) silence air conditioners are tailored for outdoor cabinets neighboring residential communities, where low noise is a primary requirement.
AC & DC Air conditioners
DC powered air conditioner for outdoor battery cabinet, solar or wind powered outdoor cabinet. These series of air conditioner use DC powered compressor, so the whole system can also work in those areas that have no AC power or when the AC power is failed.
AC POWER AIR CONDITIONER
| | | | | | | | | |
| --- | --- | --- | --- | --- | --- | --- | --- | --- |
| Model | Capacity(W) | AC | Input Power(W) | Installation | Temperature | IP degree | (KG) | (H*W*D)MM |
| W-300 | 300 | 220V±10% 50/60HZ | 150 | Door mount | -40 to +55 | 55 | 15 | 500*320*175 |
| W-500 | 500 | 220V±10% 50/60HZ | 390 | Door mount | -40 to +55 | 55 | 20 | 550*320*175 |
| W-1000 | 1000 | 220V±10% 50/60HZ | 400 | Door mount | -40 to +55 | 55 | 25 | 750*450*200 |
| W-1500 | 1500 | 220V±10% 50/60HZ | 525 | Door mount | -40 to +55 | 55 | 31 | 750*450*200 |
| W-2000 | 2000 | 220V±10% 50/60HZ | 600 | Door mount | -40 to +55 | 55 | 55 | 1100*410*320 |
| W-3000 | 3000 | 220V±10% 50/60HZ | 950 | Door mount | -40 to +55 | 55 | 70 | 1315*545*292 |
| W-4000 | 4000 | 220V±10% 50/60HZ | 1750 | Door mount | -40 to +55 | 55 | 90 | 1400*670*350 |
(Parameter may changed without notification)
DC POWER AIR CONDITIONER
| | | | | | | | | |
| --- | --- | --- | --- | --- | --- | --- | --- | --- |
| Model | Capacity(W) | DC | Input Power(W) | Installation | Temperature | IP degree | (KG) | (H*W*D)MM |
| W-500 | 500 | 48V | 190 | Door mount | -40 to +55 | 55 | 20 | 492*445*195 |
| W-1000 | 1000 | 48V | 320 | Door mount | -40 to +55 | 55 | 35 | 1170*470*170 |
| W-1500 | 1500 | 48V | 500 | Door mount | -40 to +55 | 55 | 40 | 1170*470*170 |
| W-2000 | 2000 | 48V | 830 | Door mount | -40 to +55 | 55 | 55 | 1200*500*200 |
| W-3000 | 3000 | 48V | 1000 | Door mount | -40 to +55 | 55 | 70 | 1315*545*292 |
(Parameter may changed without notification)
Projects sites