W-TEL-SPT-Series MPPT Solar power system base station
W-TEL SPT MPPT Solar power system base station is a new generation of outdoor multi-energy integrated power system with MPPT function. The MPPT solar power system is composed by cabinet, air-con/heat-exchanger/TEC, monitoring, battery, grounding, fan system, lightening, AC+DC power distribution as well as user equipment space. High protection degree: IP55-IP66.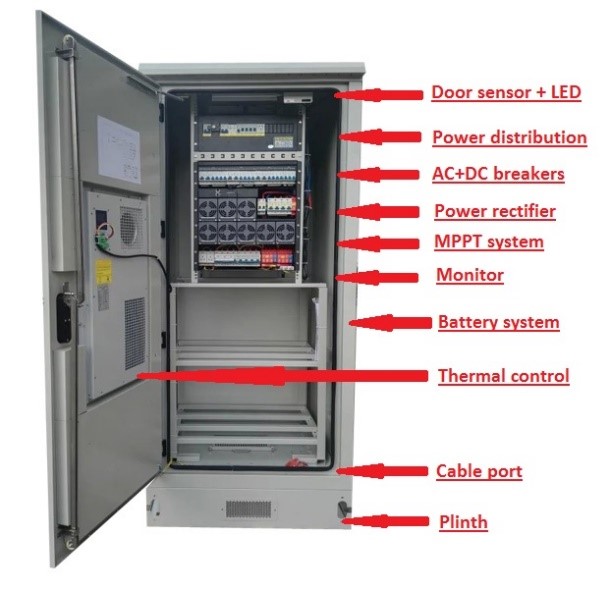 Features:
*Multi-energy power supply solution: Can be connected to solar energy, wind energy, utility power, DG to form different types of complementary power supply system.
*energy-saving mode: Maximize energy saving, according to solar energy, wind energy priority, commercial power (DG) supplement, battery backup mode operation.
*MPPT function: the maximum power point tracking accuracy is more than 99.5%. Efficiency≥96% (solar mode).
*Battery management: Perfect battery management: guarantee the long life of the battery in the harsh grid environment.
*Modular design: MPPT Module, Rectifier modules are modular hot-swappable, Flexible configuration, easy expansion and maintenance.
*Protection degree: IP55, the high degree of protection cabinet and advanced temperature control design ensure reliable operation of the system in harsh outdoor environments.
*Monitor: Providing one RS232 port, dry contact and other communication ports for network flexibility; Enabling proximal end software upgrade and unattended
*Power statistic: Load electricity consumption, solar power, mains, DG, wind turbine generated energy
W-TEL-MPPT

Parameters

Value

Rectifier

Rated input voltage

Line voltage 380VAC 3-phase 5 line

Input voltage range

85VAC~290VAC

Frequency

45Hz~65Hz

Maximum input current

≤55A

PF

≥0.99

MPPT Solar Module

Rated input voltage

68VDC

Input voltage range

58VDC-150VDC

Maximum input current

≤62A

Output

voltage range

42VDC-58VDC

Rated voltage

54.0VDC

Current

0-60A

Efficiency

≥ 89%, pure electric mode (R48-3200); ≥ 95%, pure electric mode (R48-3200E); ≥ 96%, pure light mode

Environment

Operating temperature

-20℃~+45℃

Storage temperature

-40℃~+70℃

Relative humidity

5%RH~90%RH

Altitude

≤ 2000m (derating is necessary)
Plan 1: First, the solar energy power the load and charge the battery when the sunlight adequate ; when the sunlight is not enough the solar energy and battery will power the load at the same time; When the battery is low voltage, it can power to the load and charge the battery at the same time through the rectifier module.
Plan 2: The PV supply DC current to loads and charge the battery under adequate light, it supplies to AC loads after DC transfer to AC by inverter. The remaining energy is feed back to the grid through on-grid inverter. The PV and battery supply current to loads together under insufficient light.