W-TEL-CCA-Series Copper Cross connection Cabinet
Feature:
Both IDC and wire wrap connection modules are available.
The connection block is consisting of double side colorful terminals which make easy operation and maintenance. Operator could finish connection only by a screw drive.
The body and pedestal are made of stainless steel or high quality cold rolling steel or Sheet Molding Compound (SMC).The life span is over 20 years for stainless steel body and SMC body, over 10 years for cold rolling steel body.
The hinges are placed on both sides, providing enough space for operation when the doors are fully opened.
Anti-drew design. Heat insulation material is incorporated into the cabinet to provide effective protection against dew.
Operator could ease test the cabinet by outside testing pin.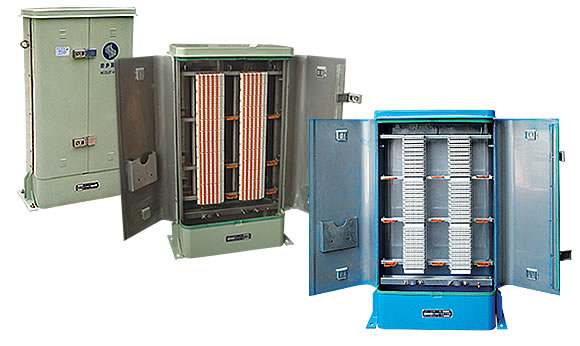 Technical feature:
Insulation resistance:
50000M /500V(DC)
Withstanding Voltage: 500V(50HzAC) 1 min without spark or arc.
Terminal contact resistance:≤3M
Contact resistance between reeds:≤20M
Pulling force: 0.4mm>50N, 1.2mm>50N
Connection durability: more than 1000 times