W-TEL-DCO-Series Data central office system
The data central office provides an equipment room for the broadband operator or ISP. The data switch, voice switch, video server and other value-added service devices are installed, and the Optical Line Terminal (OLT) is used to send diversified service signals to Optical Network Units (ONUs) of users through ODN.
The ODN central office product is connected to the OLT and outdoor optical cable. The fiber capacity of equipment room becomes larger and larger as optical access is promoted gradually, and the equipment room of central office for scale construction of FTTx raises higher requirements for later-stage maintenance management and ODF density.
To meet the large-scale optical access construction requirements of operators, we delivers the double-sided Optical Main Distribution Frame (OMDF) for facilitating patch cord management and the high-density Optical Distribution Frame (ODF) for improving the equipment room capacity and density.
ODF frame cabinet system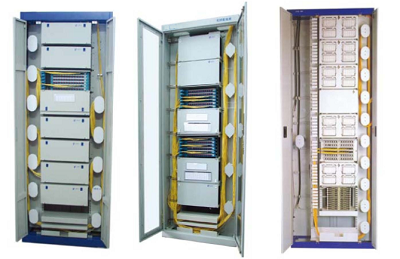 A frame suitable for central office and optical branch points. Easily configured with different modules to provide lead in, fixing and cross connection, splicing, storing and managing pigtails. Modules options include optical splitters, wave division multiplexers (WDM) as required by the customer.

Features
1. Closed sheet-metal structure, accessible front/ rear side, rack-mount, 19''
2. Modular design, high density, large capacity, space saving
3. Independent lead-in/out of optical cables, pigtails and patch cords
4. Layered fiber across unit, facilitating patch cord management
5.Optional fiber hanging assembly, double rear door and rear door panel assembly
DDF frame system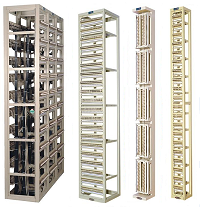 1. The frame is made from special aluminum alloy and quality steel plate. The surface is tread with galvanization ,oxidization, plastics spraying etc. with the advantage of stable structure and pleasing appearance
2. The frame is fully closed structure with good performance of dust-proof and neat and pleasing appearance.
3. Module structure is adopter for flexible and convenient configuration and installation.
4. Rotary structure is selected for each unit plate. The unit plate can be rotated downward freely to facilitate the connection and maintenance of cable.
5. The frame is provided with perfect earth system.
6. The contact surface of coaxial connector is treated with gold plating so as to ensure contact and safety.
7. The gauge of the connector without test is only 13 mm. The capacity for same space.
ODF Unit Box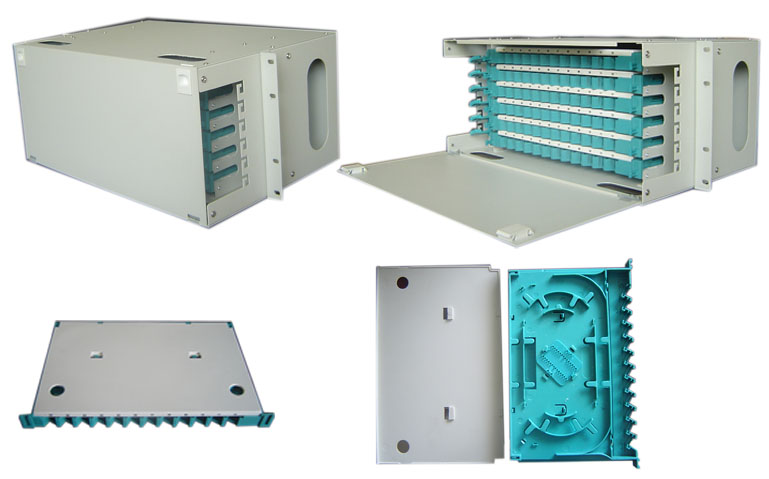 Splicing & termination module and fiber storage module are used for 19''/21'' standard rack-mounted integrated distribution cabinet, network cabinet and open frame, which integrates fiber cable fixing, stripping, splicing, terminating and patch cord storage and independently completes optical fiber splicing & termination. It can be configured with optical splitter tray to implement optical splitting and capacity expansion and is applicable to the network featuring centralized optical splitting in the equipment room of the central office.

Features
1. Rack-mount, 19 inch
2. Lead in/out cables & fibers either left or right, applicable to ribbon or non-ribbon optical cables
3. Fully enclosed structure, no exposed patch cords, pleasing appearance and dust proof design
4. Incorporates NTM-B1 integrated splicing & termination tray
5. Available with SC, FC, duplex LC adapters
6. Optical cables fixing clamps
7. Optional storage tray to for redundant patch cords
Related Product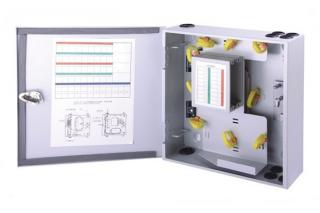 W-TEL-PIS-Series Premises installation system
Premises products used in residential buildings and office buildings (buildings of governments, enterprises and institutions, and commerce centers are added), connecting distribution optical cables...
Detailed +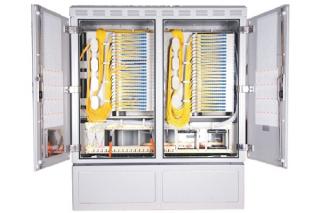 W-TEL-OPS-Series Outdoor plant system
Outdoor project connects the feeder optical cable led out from the premise to the distribution optical cable led in the user's building. The outdoor project involves such products as Fiber Distribu...
Detailed +