W-TEL-ESH-Series Energy storage container HVAC system
W-TEL-ESH container air conditioning are designed to meet the requirement of today's energy, power, communications and new retail industry facilities for prefabrication and modularization of the factory. They need an excellent environment; this require to control the temperature and the humidity inside the container. The container air conditioner system should satisfy unattended, automatic cold, heat control and humidity management, and expands the interoperability of data and information, while requiring special air conditioning with flexible structure, wide climate adaptability, high energy efficiency and excellent quality to meet the needs of user application.
1.This AC is designed for container specially and the unit is suitable for working in extreme environment.
2.The compressor, refrigerant parts, electrical elements, fans are world famous brand. It guarantees the reliability of AC.
3.Condenser and evaporator are finned tuber exchanger. The copper tubes are thicker internal thread pipes. Fins are hydrophilic aluminum foils and fins spacing is over 2.4mm. These reduce the maintenance and improve efficiency and anti-corrosion.
4.The PTC heater installed in AC and start temperature of heater ≧-35℃.
5.Outdoor temperature of cooling is -10~45℃
6.Cooling temperature setting range is 20~30 ℃ ; heating temperature setting range is 10~20℃.
7.Indoor fan keeps working when AC start and the compressor(heater) works according with air-inlet temperature of indoor. Controlling accuracy is ±2℃.
8.Monitor the unit by RS485 communication.
Cooling option: 12KW/22KW/35KW/45KW/50KW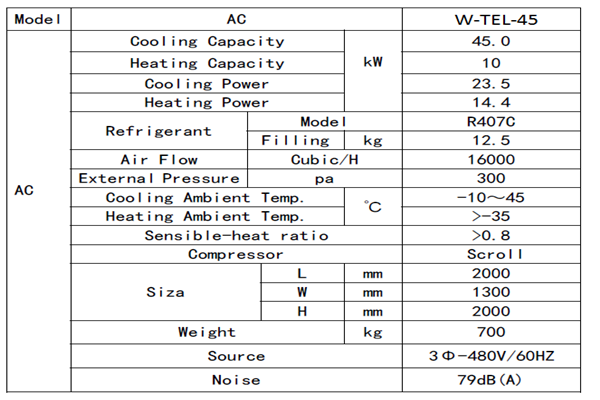 1. Cooling testing:
Indoor ambient: dry-bulb temperature 30℃,wet-bulb 23℃.
Outdoor ambient: dry-bulb temperature 35℃.
2. Heating testing:
Indoor dry-bulb temperature 20℃.
will be confirmed by both sides before producing.
Projects reference: