W-TEL-FM200-Series Heptafluoropropane fire system
The data center shelter is an important department of every enterprise and institution. Due to the special fire protection requirements of IT equipment and other related equipment, a fire protection system must be designed for these important equipment, which is the key to the normal operation of IT equipment and the protection of equipment .The whole system requests a complete set & multi-functional extinguishing fire system, Warner telecom provide a full range of equipment instrument, including smoke sensor, sound and light alarm, fire control, standby power supply, gas alarm, FM-200 fire extinguishing device, and with the most advanced air sampling device (protection for different area & room) All of the data information will transfer to big data platform for a better synthetic analysis.
When a fire occurs, the fire extinguishing agent will be transported from a steel cylinder to the protective area that needs to be extinguished, and the sprinkler is used to extinguish the fire. (Heptafluoropropane fire extinguishing system) FM200 It consists of sevoflurane cylinders, container valves, nitrogen-driven bottle sets, electromagnetic drive devices, selection valves, check valves, headers, connecting pipes, safety relief valves, pressure indicators, sprinklers, high-pressure pipelines, Pipes and other components. Heptafluoropropane fire extinguishing agent is colorless and odorless, clean, non-conductive, low toxicity, high fire extinguishing efficiency, does not pollute the protected object, and has no damaging effect on the atmospheric ozone layer.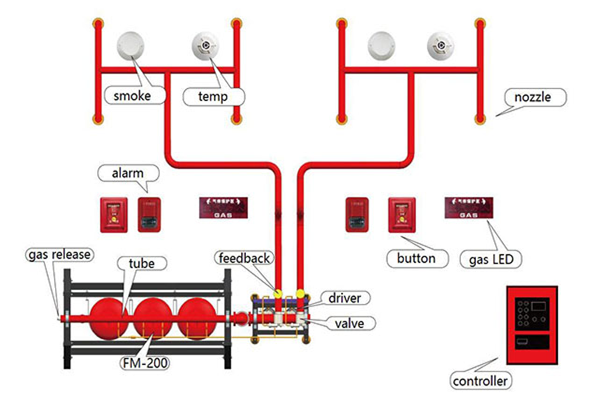 W-TEL AIR SAMPING SYSTEM
1.The latest generation of laser air sampling smoke detection system
2.High efficient extraction redundancy technology
3.The absolute value of trace smoke detection
4.Real-time air monitoring
5.Dynamic fault monitoring
6.Programmable relay team
7.Realize remote display and programming
8.Flexible modular design & combination way
9.Networking point-to-point equipment not limitation
10.Easy to connect with other fire alarm device
11.A wide range of sensitivity
12.With laser 4D to prevent false positives
13.With self-learning function
14.Special designed large capacity filter
15.Article 1000 time record function
16.4 programmable alarm thresholds