W-TEL-FOA-Series Fiber Optic adapters
SM/MM Fiber Optic Adapter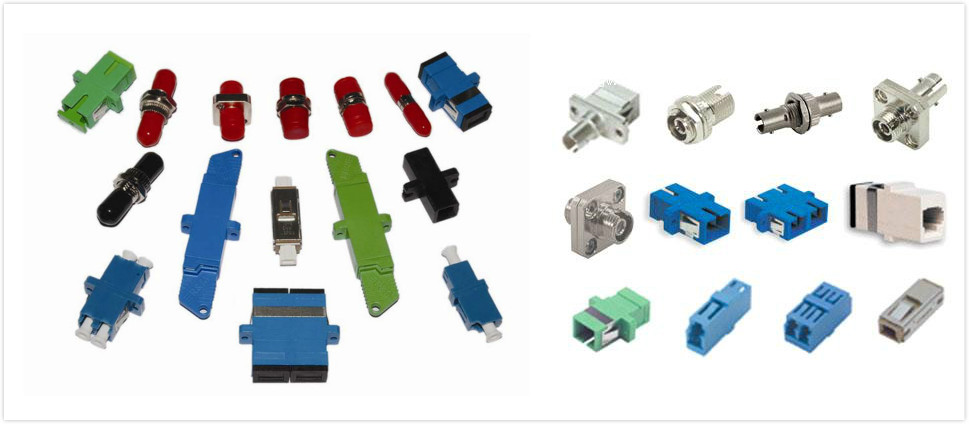 As a kind of commonly seen fiber optic assembly, the fiber optic adapter or fiber optic coupler is available in single mode and multimode versions. It is mainly used for connection and fixing of optical fiber connectors. The two connectors are precisely aligned and locked up by the alignment structure of the optical fiber adapter, thus ensuring low insertion loss.

The fiber optic adapter has two different internal structures for alignment. One is to utilize precise ceramic or copper sleeve to complete alignment. Most of fiber optic cable adapters, including SC, LC, FC, ST, D4, and DIN types, make use of the structure. The other one is to achieve accurate alignment by using PIN and PIN hole. This structure is mainly used in MT series fiber optic adapters such as MT-RJ, MPO and MPO type.
According to the types of the two connectors combined, the fiber optic adapter can be divided into three categories: the non transfer-type like SC-SC and LC-LC; the transfer-type including SC-LC and SC-FC; and the female-male fiber adapters such as SC (female)-FC (male).
Fiber optic adapters can be often seen in FTTx, MANs, WANs, CATV, etc. In the computer rooms of buildings or residential areas, thousands of patch cords are connected and communicate with each other. Fiber adapter is indispensable in connection of patch cords. It is also used to connect devices together and for the production tests of other passive devices.
The complete set of optic passive components production and assembly facility and measurement instrument imported from USA and Japan for the establishment of the optic passive production line, available in traditional FC, SC and ST optic cable connectors and LC, duplex SC, MF-RJ and MU small size optic fiber connectors. All movable optical fiber connectors have passed inspection by the Quality Supervision & Inspection Center of Optical Communication Products (QSICO) under the Ministry of Information Industry (MII).
| Item | Parameter |
| --- | --- |
| Material | FBT |
| Color | Gray |
| Scope | PC&APC |
| Insertion Loss | ≦0.2dB |
| Operation Time | 500 times without distortion and crack, Variety Insertion Loss≦0.1dB |
| Insertion Loss | -40 ~ +85℃ |
| Mechanical Durability | 50N, connection with two connectors, connection time of 30min |
| Temperature | 40N, connection with two connectors, connection time of 30min |
| Axial Tension Force | >8 N |
| Side Shear Force | -40~+75℃ |