W-TEL-PBS-Series Power battery system
W-TEL-GFM valve-regulated lead-acid battery is a high-capacity battery of
new model that is developed with the latest modern technology. Its performance can meet the
standard given in YD/T799-2002 and IEC. This product has many advantages, such as, safe and
reliable seal, high specific energy, low resistance, low rate of self-charge, good charge receptivity,
long cycle life, high seal reaction efficiency. There is no redundant electrolyte in normal use, and no acid smog spray. With easy usage and maintenance, it is intended for service in telecom system, UPS, fire alarming and security system, emergency light system, mobile measuring equipment, power supply system, apparatus and instrument, military facilities, railway transportation and auto control equipment.
Lead-Acid system features
1.Battery case and lid are made of high-strength ABS in a compact structure, characterized by the good resistance to impact and vibration.
2.Grid plate is made of special lead-based multi-element alloy, having virtues of low resistance, and good corrosion-resistance for a long cycle life of battery.
3.New process of plate production are applied to improve the utilization of active material.
4.Ultra fine fiberglass separator with low resistance is used to achieve a good performance in discharging with large current.
5.High-purity electrolyte and special additive are used to reduce the internal resistance of the battery.
6.Multi-layer seal technology and special seal glue are applied to ensure the safety and reliability of battery with no leakage and no acid smog spray.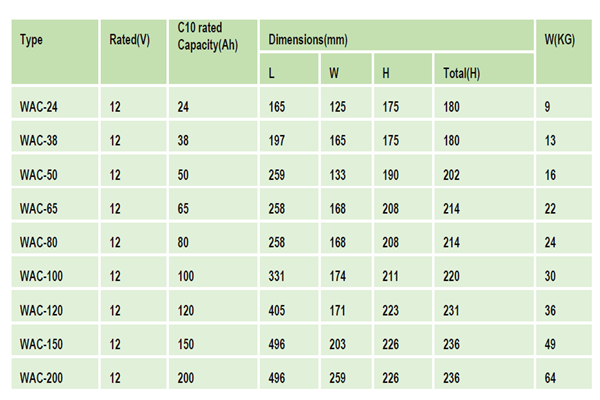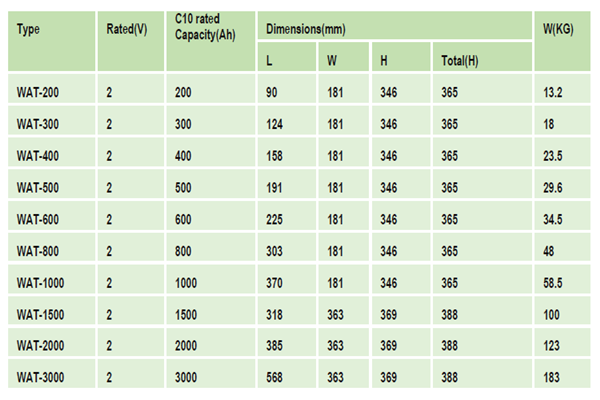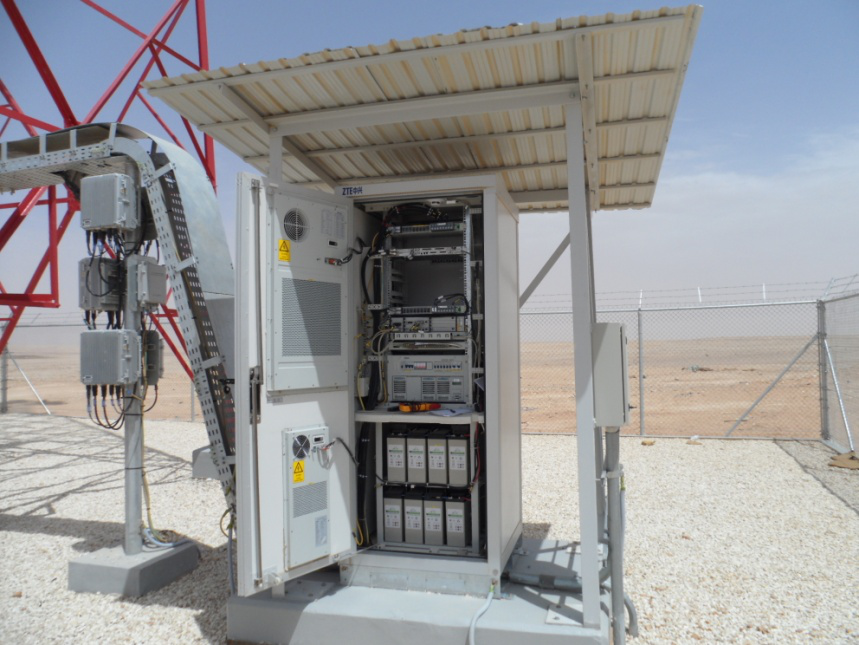 W-TEL-LiFePO4 battery designed and developed to meet the requirements of current
telecommunication operator on new model backup power supply. It has features of integration, miniaturization, light weight, intelligence, standardization, environment protection etc., which is widely used in indoor station, integrated base station, marginal station, cellular station, FTTX device, WLAN device, RRH, distribution power supply etc.
LiFePO4 battery system features
1.New model LiFePO4 battery, reliable, long life time
2.Environment friendly material, production and use
3.3.2V/50Ah single cell
4.2-level safety valve, safe and reliable
5.High energy density, stable discharging stage, reduce the service rate of base station
6.Integrated design: 16pcs in series battery management system standard box
7.Rack-mountable installation size, in accordance with EIA and ETSI specification, suitable for wall-hung installation
8.Environment adaptable, wide work temperature
9. Intelligent intermittent discharging function, reduce the cost of base station power consumption effectively
10.Comprehensive protection function (over voltage, under voltage, short circuit, reverse connection, over load, over current, high and low temperature, balancing, dormancy)
11. Intelligent design, have far test, communication, control and adjustment function
12. Have RS232 and RS485 interface, can be connected to station monitoring platform

Specification:
Model

W-TEL-4850T

Rated voltage

-48 VDC

Nominal capacity

50 Ah

Dimension

442×440×134(±2)mm 3U

Weight

35±1.0 kg

Battery type

LiFePO4 battery, stacking type

Module

16 pieces battery in series connection+BMS+standard box

Working temperature

-20~65℃(recommended temperature:0℃~50℃)

Storage temperature

-25~70℃

Working relative humidity

≤90%(40℃±2℃)

Normal atmospheric pressure

70kpa-106kpa

Noises

0 dB

Special explanation

The product is made up of single cells. If customer needs48V/200Ah, it can have 4 sets in parallel
connection.
| | |
| --- | --- |
| Charging parameter | W-TEL-4850T |
| Charging mode | Balancing charging, intermittent charging, continuous floating charging |
| Total voltage under equalization charging | 56.8V |
| Single cell voltage under equalization charging | 3.55V |
| Total voltage under floating charging | 54.0V |
| Single cell voltage under floating charging | 3.40V |
| Charging current | 5A~50A(normal5A-15A) |
| Single cell over voltage alarming | 3.60V(settable) |
| Single cell over voltage alarming recovery | 3.50V(settable) |
| Single cell over voltage protection | 3.70V(settable) |
| Single cell over voltage protection recovery | 3.55V(settable) |
| Single over voltage test delay time | 1.0S-1.5S(settable) |
| Charging current test delay time | 1.0S-1.5S(settable) |
| Total voltage over voltage alarming | 57.0V(settable) |
| Total voltage over voltage alarming recovery | 56.0V(settable) |
| Over total voltage protection | 58.4V(settable) |
| Over total voltage protection recovery | 57.6V(settable) |
| Total voltage over voltage test delay time | 1.0S-1.5S(settable) |
| Intelligent intermittent charging condition | Average single cell<3.4V,SOC<80%(settable) |
| Intelligent intermittent full charging condition | Average single cell>3.5V,charging current<1A(settable) |
| | |
| --- | --- |
| Discharging parameter | W-TEL-4850T |
| Discharging current | 0-50A |
| Discharging over current alarming | >45A(settable) |
| Discharging over current protect | >50A(settable) |
| Single cell under voltage alarming | 2.90V(settable) |
| Single cell under voltage alarming recovery | 3.10V(settable) |
| Single cell under voltage protection | 2.70V(settable) |
| Single cell under voltage protection recovery | 3.00V(settable) |
| Single cell over discharging test delay time | 1.0S-1.5S(settable) |
| Discharging over current test delay time | 1.0S-1.5S(settable) |
| Total voltage under voltage alarming | 48.0V(settable) |
| Total voltage under voltage alarming recovery | 49.6V(settable) |
| Total voltage under voltage protection | 43.2V(settable) |
| Total voltage under voltage protection recovery | 47.2V(settable) |
| Total voltage over discharging test delay time | 1.0S-1.5S(settable) |
| Low electricity alarming | 10% SOC |
| Low electricity alarming protection recovery | 20% SOC |