W-TEL-RPS-Series Rectifier power supply system
W-TEL high frequency power supply system is developed by decades of exploitation and on-line operation experience. To meet the demands of the network construction for 3G/4G 、FTTX 、data communication equipment 、transmission equipment and access equipment .With high reliability、high power density、high-performance、all digital insert-frame communication power system function. With battery management and power system monitor function , match with proper sensor can realize environment supervision and supply more than one standby supervise capacity , Also can support RS232 、RS485 interface for IP ,convenient for realize remote supervision and unattended.
· System Features
· Adopt up-and-down in-and-out wiring methods, all front operation, easy installation and maintenance.
· Structure flexible, indoor and outdoor type, can reach IP55.
· With AC /DC /ACDC /ACDC integrated multi-system structure, fit for multi -application
· Excellent AC/DC/ signal lightening protection
· Rectifier support normal efficiency and high efficiency mixed insertion, more environmental protection.
· Input voltage range of rectifier module is 90-300 Vac. power grid with high applicability.
· Rectifier module with nondestructive hot-swap tech, support on-line maintenance
· Excellent battery management function, effectively extend the service life of the battery.
· With RS232/RS485, interface, dry contact and multi- communication interface, flexible networking
Configuration

W-TEL-200

W-TEL-400

W-TEL-600

System capacity

200A

400A

600A

Supervisory module

SM32E

Rectifier module

RM4850/RM4850H

AC/DC distribution unit

support 24P AC/DC circuit breaker installation position

Dry contact

6 ways input ,6 ways output, user-defined

Frame construction

19inch 6U

19inch 8U

19inch 10U

Optional configuration

3U AC/DC distribution unit, multi-users electric power consumption inspection function, B+C SPD, AC electric power inspection, multi-level load function and TCP/IP communication.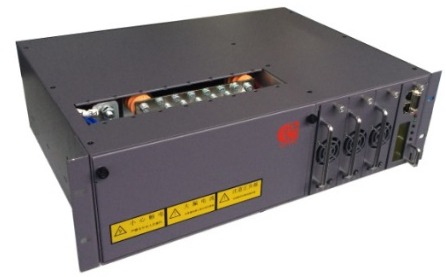 Configuration

W-TEL-14

W-TEL-18

Cabinet inside size

800W*800D*1400H

800W*800D*1800H

DC Power system

IPS30000 series insert power system

Distribution unit

3U AC/3U DC distribution unit

Temperature control equipment

equipment compartment heat exchange, AC compressor air condition. battery compartment TEC.

Inside space

Equipment compartment 22U,Battery compartment 18U (2sets of 150AH battery)

Equipment compartment 22U,Battery compartment 18U (1set of 150A H battery)

Cabinet material

sandwich steel panel

Others

48v light ,entrance guard ,battery guard against label ,hydrogen remove fan.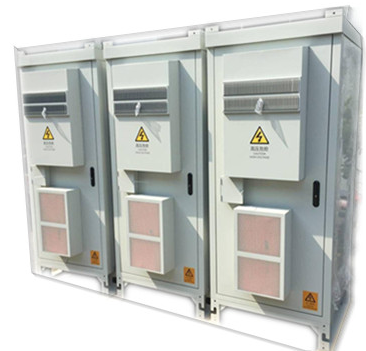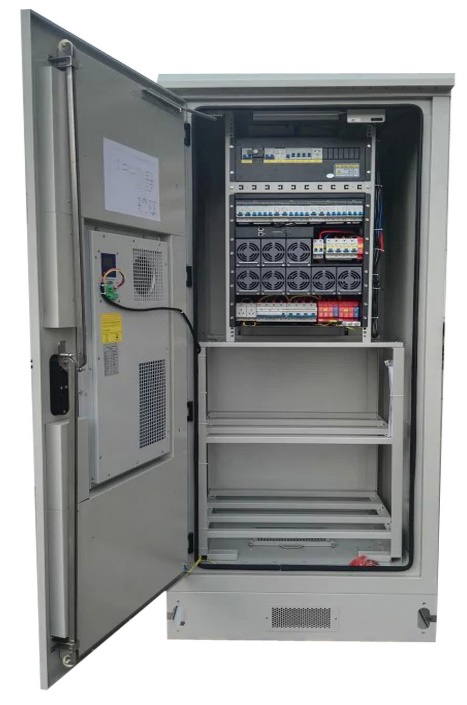 Rectifier Module

W-TEL-4850

W-TEL-4850H

W-TEL-4830

W-TEL-4830H

Input voltage

90~300Vac(176V~300V full load output,90~176V decline load output)

Output voltage

typical 53.5Vdc(range 42~58Vdc)

Output current

0-50A

0-30A

Power factor

≥0.99

Input frequency

45~65HZ

Output frequency

2900W

1740W

Protection function

input overvoltage protection ,output overvoltage protection , output over current protection ,over temperature alarm and protection

Overvoltage protection point

59Vdc

Output current limit

54A

36A

Ripple (vp-p)

≤200mv (at rated input /output state ,plus 0.1uF ceramic capacitor and 10uF high frequency electrdytic capacitor for each ,bandwidth is 20MHz measurement.)

Call constant noise

≤2mv

Voltage stability accuracy

≤±0.6

Dimension

242.1*102.7*83.8mm

208×126×41.6mm

Startup time

≤10S

Output power

≥92%

≥95%

≥92%

≥95%